Announcing New Promotions
We are thrilled to share the news of two well-deserved promotions – Adam Rude's elevation to the role of Senior Associate and Sean Jursnick to Associate. As long-time team members at SAR+, both of these individuals are being recognized for their exceptional dedication and tireless efforts in enhancing our firm and the projects they work on. Their countless achievements are a testament to their hard work and commitment, and we look forward to witnessing their continued success as leaders here at SAR+.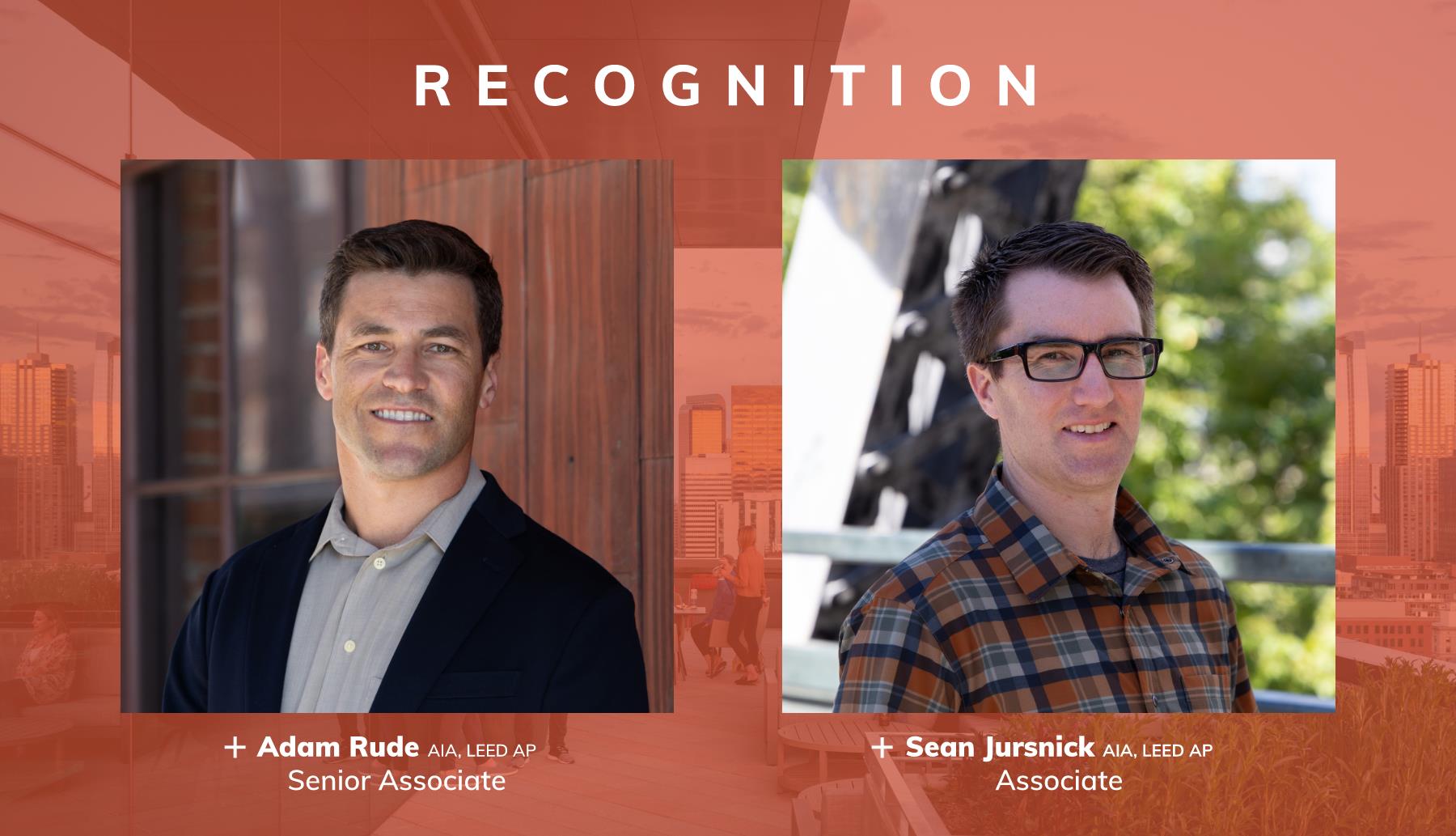 Adam Rude | Senior Associate
Adam Rude joined SAR+ in 2017 as an experienced, design-oriented architect, having completed projects across the country and in Asia. His experience ranges from net-zero energy single family residences to large urban developments, with a balanced focus between the details and the big ideas.  Since joining, Adam has become a strong design leader in the firm, and is focused on creating projects which meaningfully benefit their communities.  He recently led the design of the Mercer Apartments project set to open in the Union Station neighborhood this summer, and is also leading construction management for two multi-modal bridges which will serve the greater Broadway Station Development in Denver (Kentucky Bridge & South Pedestrian Bridge).  Adam oversees all aspects of design and documentation on his projects, involving the full design and consultant team to explore innovative, elegant, and comprehensive design solutions to reach a successful project outcome. 
Beyond his project work, Adam maintains an involvement with the University of Colorado Denver's College of Architecture and Planning, periodically teaching design studios to undergraduate and graduate students, offering critique during final reviews, and co-teaching ACE summer camps held at the school.  He is driven by a desire to create sustainable long-term solutions to our world's rapidly growing cities, and a belief that design can make the future a better place to live than today.   
Fun Fact: Adam maintains a conversational knowledge of Spanish and is always looking for opportunities to practicar.  
Sean Jursnick
| Associate
Sean joined the SAR+ team in 2016 as a seasoned Architect with experience in a wide array of project types such as student housing, hospitality, government buildings, multifamily housing communities, and commercial high-rise projects. As a key player at SAR+, Sean has helped lead several projects for our firm, including Stanley House in Aurora, Modera LoHi in Denver and the recently topped-out high rise at 990 Bannock. He is currently heading up construction management efforts for 2700 Wewatta – an affordable and supportive housing community which will serve youth transitioning out of the foster care system or living on the streets because of family conflict, abuse, neglect, poverty, or other hardships.   
In addition to his core project roles, Sean is a leader in our office in research and advocacy for affordable and attainable housing options.  Sean was awarded the AIA 2021 Fisher Travel Scholarship to study smart cities' carbon reduction efforts and has also volunteered on the AIA Colorado Committee on the Environment (COTE).  Recently, Sean was selected to speak at the 2023  AIA Practice + Design Conference about efforts to reform building code to as a strategy to create more efficient and affordable housing options for Colorado.  
Fun Fact: Sean played IM basketball with the Polish Ambassador in college.