Recognizing Our Newest Senior Associates & Associates
We're incredibly proud to announce our newest Senior Associates and Associates!  These talented individuals have played and continue to play a vital role in our firm's commitment to thoughtfully fulfill the needs of our clients and community through the highest level of design. Please join us in celebrating this outstanding group of talented leaders and the countless others that make each SAR+ project possible!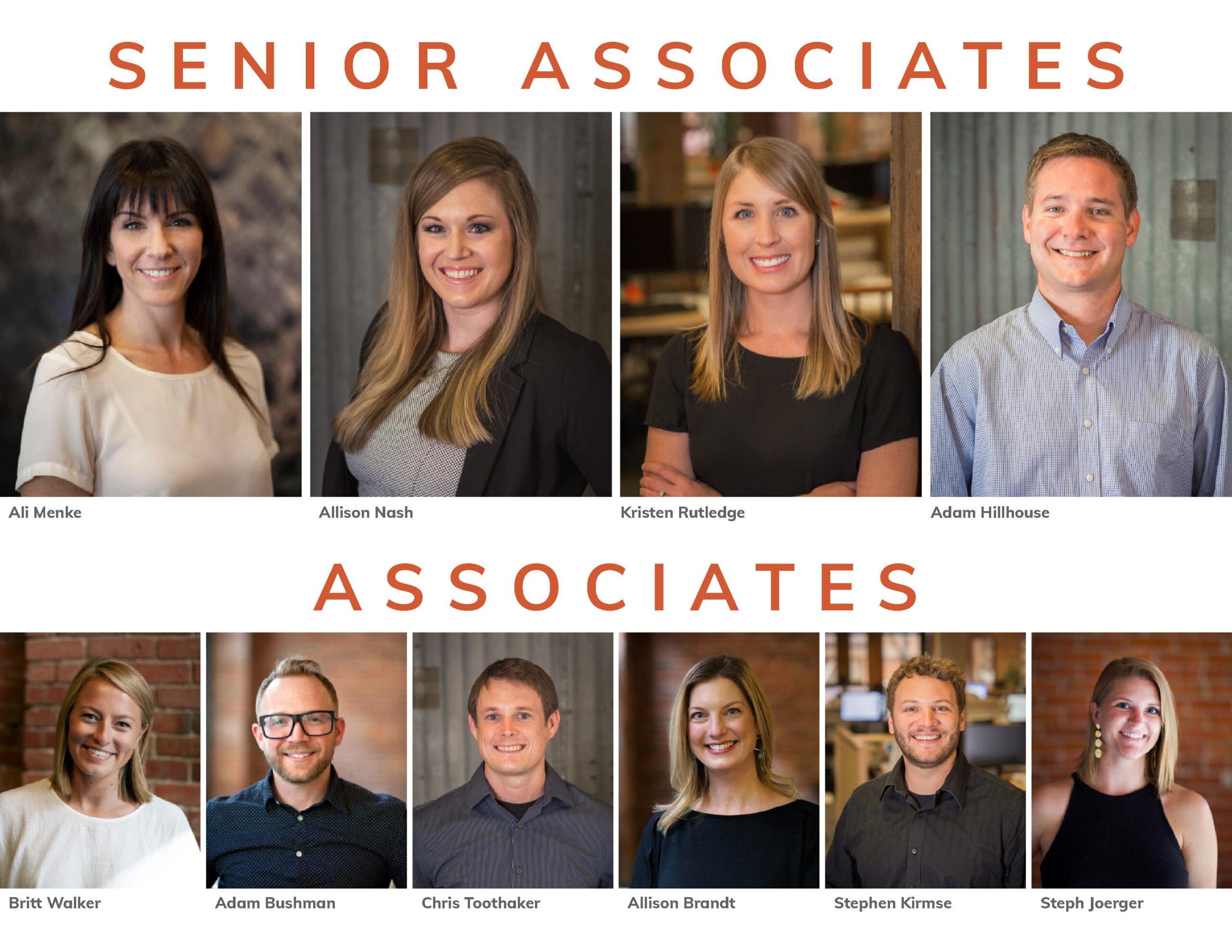 Allison Nash | Architect | Senior Associate 
Allison has spent her career working on a variety of project types including those in the hospitality, multi-family, education, federal, and military sectors. She brings exceptional organization and management skills to keep the project team, both internal and external, moving forward in a cohesive direction. In addition to her project responsibilities, she assists with the firm's operational and financial reporting and processes. Allison is currently leading 299 Milwaukee in Denver's Cherry Creek neighborhood and the University Hill Hotel in Boulder, CO.   
Fun Fact: Allison doubled as a professional calligrapher between 2008 – 2018. 
Kristen Rutledge | Architect | Senior Associate 
Throughout her 9 years at SAR+, Kristen has played an integral role in the completion of many large multifamily projects. Her attention to detail is unmatched and has contributed immensely to her debut as project manager leading some of Denver's skyline-changing projects. At SAR+, Kristen has worked on MyBlock project in Wash Park as well as Platform and The Grand high-rise projects in Denver's Union Station Neighborhood. She is also currently championing multiple Interior Design projects.  
Fun Fact: Kristen used to be a standout hockey player. Anyone that knows her shouldn't be surprised. 
Ali Menke, AIA | Architect | Senior Associate
Ali thrives while working on projects at every scale from large master plans to interior details. Since joining in 2014, Ali has managed multiple SAR+ projects from conception to completion at Denver's 9+CO redevelopment, including Milo Luxury Residences. She is currently working on a multi-tower, mixed-use development at the intersection of Speer Boulevard and Lincoln, as well as, The River Mile masterplan development, both in Denver.  In addition to her commitment to and passion for architecture and design, Ali promotes equity, diversity and inclusion opportunities within our office and industry-wide. 
Fun Fact: One of Ali's first projects was Bill and Hillary's private residence in Washington DC! 
Adam Hillhouse | Architect | Senior Associate 
Adam approaches architectural design with passion, patience and inter-disciplinary rigor. His design and technical expertise, coupled with a 10-year history with the firm, make him uniquely suited to oversee design and construction documentation on a diverse portfolio of projects. Most recently, he has led Citizen's West 10th & 990 Bannock multifamily projects in Denver's Golden Triangle neighborhood. 
Fun Fact: Adam has drawn one sketch a day for more than two years (and counting). 
Allison Brandt | Architect | Associate 
Allison came to SAR+ with a wealth of experience on a variety of project types, including commercial office, mixed-use, and higher education. She's passionate about creating buildings that offer a distinct experience, and she's committed to maintaining design intent for the duration of a project. Allison is currently focusing on multi-family residential projects and leading Colfax & Franklin, a mixed-use commercial and residential development which will revive a prominent corner in Denver.  
Fun Fact: Allison was on the women's boxing team in college. 
Stephen Kirmse | Architect | Associate  
Stephen has been at SAR+ since 2013 and has provided design and technical leadership skills to a wide range of projects, most notably Theo Luxury Residences, 990 Bannock, and the commercial office building at Broadway Station Development.  As the primary liaison between the client and consultants, he routinely demonstrates his ability to coordinate the efforts of all team members in an efficient and effective manner in order to complete projects on time and on budget. Stephen is currently helping design a mixed-use community at a high-profile site adjacent to Speer Boulevard in Denver.  
Fun Fact: Stephen is an exceptional cook. 
Chris Toothaker | Architect | Associate  
As a detail-oriented designer with a passion for illustration, rendering, & documentation, Chris has become a critical player in the firm's work. His most recent projects have included leadership roles on our Alexan, Milo, Broadstone, and 37th/Downing multifamily projects. In addition to his key project roles, Chris also pursues his passion for digital painting and photography. 
Fun Fact: Chris is a talented chess and tennis player. 
Britt Walker | Director of Communications | Associate  
Brittany joined the SAR+ team in 2017, stepping into a much-needed Communications Coordinator role for our growing firm. A vibrant young leader with a passion for clear communication, client relationship management, event planning and firm reputation management, Britt has become a pivotal player in leading both internal and external communications for our practice.  
Fun Fact: Britt once waited on Warren Buffet at a country club in Omaha. 
Adam Bushman | Architect | Associate  
Adam joined the SAR+ team in early 2019 and has been a great resource in elevating our graphic communication across all projects. He is passionate about providing designs that enable people to thrive in their environments, ultimately living healthier, happier, and more fulfilling lives. Adam has worked on the Tiny Home Project since starting at SAR+, in addition to being a critical voice on a number of our planning efforts, most notably The River Mile and the Ball Arena Redevelopment. He is also currently working on 2 bridge projects at Broadway Station aiming to better connect neighborhoods to their surrounding context. 
Fun Fact: The visceral experience of racing motorcycles professionally has given Adam an alternative view of architecture, design, and the world around him. Oh, and he also traveled the country while living and working out of his van during COVID. 
Steph Joerger | Interior Designer | Associate  
Steph joined SAR+ in 2018 after studying and working in New York City on a variety of historic preservation projects. Her work, with a focus on interior design and furniture, fixtures, & finishes (FF&E) selection spanning across many project types, including: multi-family housing, higher education, arts and culture and corporate office spaces. She is currently leading efforts on Alexan Belleview, 19th & Chestnut and a private retro '60s office suite. She is a problem solver and enjoys the ever-evolving challenges each project presents. 
Fun Fact: Steph enjoyed her first hamburger at age 24.