Announcing our Newest Associates
We are thrilled to announce the promotions of 7 new Associates! The following individuals have been recognized for their outstanding project leadership, their commitment to continually developing strengths in design and technical knowledge, and their many contributions to SAR+'s broader strategic vision. Please join us in congratulating this exceptional group of talented leaders, and the countless others, that make our projects possible!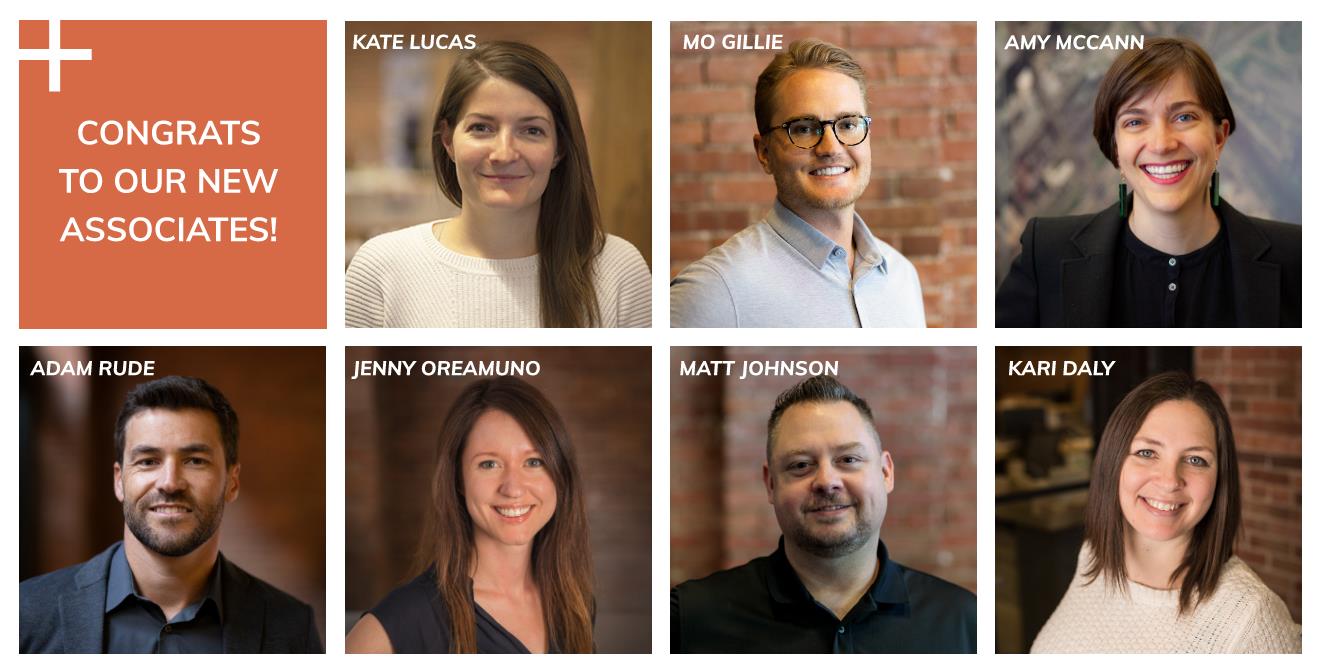 Meet the team!
Kate Lucas | Associate
Kate is known for her strong work ethic, thoroughness, and keen attention to detail in crafting creative options and solutions for clients. She has spent her career to-date working on projects ranging from hospitals to affordable and market rate housing and mixed-use developments. Since joining SAR+, she has been coordinating Amli Uptown, the 316-unit residential project which adaptively integrates two of Denver's historic shopfront buildings, and Broadway Station – the new mixed-use development at the former Gates Rubber Company Property in Denver. Among other projects, she is currently working on the adaptive reuse portion of the Colfax and Franklin project, which works to integrate two contributing mansions in the Wyman Historic District into a new mixed-use residential development. 
Mo Gillie | Associate
Mo Gillie has been with SAR+ for 9 years and has been instrumental in the design of several of our large and complex projects. We can always count on Mo to be the level-headed voice helping to keep the team on track and ensure project alignment for everyone involved. He was a key player in the mixed-use Dairy Block development, the 9+CO Master Plan and Milo Luxury Residences. He is currently working on Broadway Station's Office Building & the University Hill Hotel in Boulder.  
Amy McCann | Associate 
Amy McCann is a Denver native with a passion for cities, the urban environment, and historic context. Over the early years of her career, she worked with large, multi-office architecture firms on diverse project types within both the private and public sectors. Amy has greatly contributed to a number of our hospitality pursuits at SAR+ and she is currently working on the University Hill Hotel in Boulder, serving as a key voice in moving the project forward through Boulder's Entitlement process, and the Blake Street Hotel in Denver. 
Adam Rude | Associate 
Since joining SAR+, Adam has become a strong design leader in the firm, working through conceptual designs with clients exploring new project opportunities and continuing through the development and execution of those projects. He thrives on visual communication and collaboration and has worked on a wide array of project types. Adam was instrumental in the design and Landmark Preservation approval of the adaptive reuse development at Colfax and Franklin and is currently leading the design for two pedestrian bridges at the Broadway Station development as well as overseeing construction administration for the 19th & Chestnut multifamily high-rise in Denver's Union Station neighborhood. 
Jenny Oreamuno | Associate  
Jenny has become a tremendous player across several education, cultural and multifamily projects for our firm. More recently, she has been a key project leader on Meow Wolf Denver, the 90,000 SF triangle-shaped structure that houses the company's immersive art exhibits. In addition to her project leadership roles, Jenny has also been a pivotal player in the development of our firm's strategy for community impact projects, helping our larger practice use its platform to apply our skillsets for the benefit of smaller community change-making endeavors.  
Matt Johnson | Associate
Matt brings more than 18 years of professional architectural experience to SAR+, formerly working in the civic, sports, and airport sectors. Throughout his career, Matt has served in a variety of project roles with diverse responsibilities from schematic design leadership to on-site construction administration. He is currently managing the Macy's Office Conversion project in Boulder, Colorado – a renovation of the 29th Street Mall in Boulder– and a residential project at 19 & Chestnut in Denver. Matt also serves as a Revit design leader, helping develop best practices and procedures for our growing practice.   
Kari Daly | Associate  
Kari has served as a project manager on a variety of projects and project types for the firm, becoming a versatile architect with opportunities to work on projects through all phases of design. Some of her core leadership roles have been on the South Main Station project in Longmont, Colorado, the Creative Learning Preschool in Denver's Stapleton community, and currently on Ralston Creek – a 195-unit residential building in Arvada.  Kari is passionate about expanding her knowledge as a designer and creating timeless architecture.